"Art defines a lifestyle. It is an expression of a personality or brand. In public places, beautiful objects can intrigue, calm and inspire. Some simply bring on a smile..."
Whether it's an original painting on a living room wall, a giant abstract sculpture for a reception area, or a unique ornamental feature for your garden, I will create for you an original that's worthy of a lifetime's admiration.
Deprecated
: mysql_connect(): The mysql extension is deprecated and will be removed in the future: use mysqli or PDO instead in
/home/townsend/public_html/modules/connect.php
on line
14
What's New?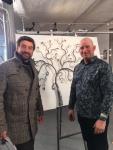 January 2020
As seen on Home Is Where The Art Is BBC1 prg 6
I was so honoured to be asked to be on the show and fantastic to be able to make a special legacy sculpture for my buyers!
Exhibitions
Come and view my work
See the exhibition diary for the latest collections of my work on show.