"Art defines a lifestyle. It is an expression of a personality or brand. In public places, beautiful objects can intrigue, calm and inspire. Some simply bring on a smile..."
Whether it's an original painting on a living room wall, a giant abstract sculpture for a reception area, or a unique ornamental feature for your garden, I will create for you an original that's worthy of a lifetime's admiration.
What's New?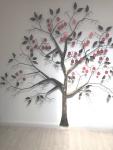 April 2018
Pomegranate Tree Fundraising/Memorial
My Studio The Old Forge will be Open for Oxfordshire Art weeks 5th-13th May 11am-5pm Fizz and Chocs
Exhibitions
Come and view my work
See the exhibition diary for the latest collections of my work on show.